Ángel Leoncio Reséndiz
"Railroad Killer"
Born Ángel Leoncio Reyes Recendis in Puebla, Mexico in 1959, he was raised by a single mother until he was six. He was sent to live with his aunt and uncle who Resendiz later said sexually abused him before returning to live with his mother at the age of twelve. His family remembered him as a lonely person who rarely got into trouble and only had a 7th-grade education. His mother said he was sexually assaulted by a group of older boys when he was 13 or 14 years old after going swimming in a nearby river. As a teenager, Reséndiz illegally crossed the border into the United States. He was arrested by authorities in Michigan in 1976 and sent back to Mexico but quickly returned and was arrested in 1979 for brutally beating an 88-year-old man at his home in Miami, Florida.
He was sentenced to 20 years in prison for assault and robbery, but he was released in 1985 after serving only six years. After his 1985 release from prison and deportation to Mexico, Resendiz crossed the border and, in 1986, shot a homeless woman 4 times with a .38 caliber weapon because she insulted him. He then dumped her body in an abandoned farmhouse in Bexar county Texas after killing her boyfriend as well making them the first known victims of the Railroad Killer. Resendiz claims that he and the homeless woman took a motorcycle trip together and they had brought the gun to practice target shooting before she disrespected him leading to her death. He claims he shot and killed her boyfriend before dumping his body in a creek between San Antonio and Uvalde because the boyfriend was a practitioner of black magic, but his body has never been found. It wasn't until a 2001 confession that authorities found out about these murders which Resendiz hoped would move up his date of execution.
In June of that same year, he was arrested and sentenced to 18 months in Laredo Texas for sneaking into the US with a fake US birth certificate. He was again deported in May of 1991 after serving 2 ½ years for weapons possession and fraudulently applying for a social security card but soon returned to the US. Another 2001 confession stated that Resendiz killed 33 yr. old Michael White in 1991 whose body was found on July 19th of that year. He had been beaten to death with a brick because he was homosexual before being dumped in the front yard of an abandoned house in downtown San Antonio.
Six years later, on March 23rd, 1997, Resendiz had made his way to Ocala Florida where he came across two teenage runaways from Woodstock Illinois who wanted to get jobs picking oranges. Resendiz told them he could get them jobs so they agreed to hop a train with him. Once they reached a train switching station Resendiz told the young man to follow him to go talk to a guy about work but instead, he beat 19 yr. old Jesse Howell to death with an air hose coupling leaving his body beside the railroad tracks. Resendiz then went back to the train car where the girl was waiting on them and Howell's 16 yr. old fiancée Wendy Von Huben was raped repeatedly and tortured for 8 hours before being strangled with his bare hands and buried 15 miles down the line from where Howell was killed where she was found in a shallow grave in Sumter County Florida. Resendiz didn't waste any time because he beat another transient, 54 yr. old Robert Castro, to death with a wooden board in a Colton City California rail yard in July of 1997.
Within a month, Resendiz had quickly left California far behind ending up in Lexington Kentucky. On the 29th of August of '97, a young couple who were attending the University of Kentucky were walking down the railroad tracks taking a shortcut from one frat party to another when they had the unfortunate experience of encountering Angel Resendiz. What transpired was recounted by the 23 yr. old girlfriend, Holly Dunn Pendleton, the only known survivor of Resendiz's trail of terror. Pendleton said that she and her 21 yr. old boyfriend Christopher Maier was approached by Resendiz who demanded money but when he couldn't find any he bound and gagged them before using a 52-pound rock to crush the skull of Christopher Maier, effectively taking his life.
Resendiz then walked over to Holly Pendleton saying "He's gone, you don't have to worry about him anymore" before proceeding to beat and rape her leaving her with a broken eye socket and jaw. Holly managed to walk to a nearby house where a man cut off her mouth gag and called the police who reported she had a stab wound to the neck and multiple cuts to her face. After testifying against Resendiz, Holly Pendleton has dedicated her life to helping victims of sexual assault through her non-profit Holly's House in her native Evansville Indiana.
One year later on October 4th, 1998, Resendiz made his way to Hughes Springs Texas where he found himself outside the home of Leafie Mason which was only 50 yards from the Kansas City-Southern Rail line. He entered the home of the 87 yr. old and proceeded to beat her to death by repeatedly bashing her head in with an antique flat iron used for pressing laundry. A short two months later on December 10th, 1998, he was in Carl Georgia where he beat 81 yr. old Fannie Whitney Byers to death with a tire iron in her home near the CSX Transportation railway line.
It only took Resendiz a week to make his way back to Texas from Georgia. On December 17th, 1998, Angel Resendiz took the life of 39 yr. old Baylor College of Medicine pediatric neurologist Claudia Benton in West University Place Texas. Dr. Benton and her husband George lived in the incorporated community in SW Houston with their twin daughters who were in 6th grade. Their home was unfortunately only a quarter-mile from the Southern Pacific railroad tracks running through the city. The night before on the 16th of December 1998, George Benton took their girls to Arizona to visit relatives but Claudia was unable to attend due to a work presentation she had the next day.
Claudia worked through the evening before going to bed and, around midnight, Resendiz sneaked into the house through an open door, stopping in the kitchen before heading upstairs. Once there, he found Claudia Benton asleep in the master bedroom and began to attack and rape her repeatedly before stabbing her 39 times with a butcher knife he found in her kitchen. Getting ready to leave Resendiz noticed Mrs. Benton was still breathing so he decided to grab a two-foot-tall bronze statue sitting in the bedroom and beat her with it in the head 19 times until he was sure she was dead.
Unable to locate the keys to Claudia's Jeep Cherokee, which law enforcement later found hanging in the pantry, he stole any cash he could find, ivory figurines, jewelry, electronics, and meat clever before ripping the plastic cover from the steering column, hotwiring the vehicle, and leaving the destroyed lives of the Benton family in his wake. Her Jeep was found two days later December 18th, 1998, in a motel parking lot near some train tracks in San Antonio Texas. A coroner later said that Benton's stab wounds were so forceful they broke several of her ribs, punctured her lungs, and three went through her back and came out the front of her chest. She was found on the floor covered by a blanket with only one arm and her legs sticking out with a plastic bag partially covering her head. She had two broken bones in her right forearm and the bones in her face were shattered from trying to fight off her attacker.
Her husband George is later quoted as saying, "It's been hard. There's nothing harder I can do in life than tell my daughters their mother's been murdered." Investigators found DNA at the scene but the link tying Resendiz to the crime was a fingerprint left behind on the piece of steering column he left behind in the Benton's garage. The fingerprints came back belonging to Rafael Resendez-Ramirez, which was one of Angel Resendiz's dozens of aliases that were suspected of multiple killings across the country. It was this identity that was initially labeled The Railroad Killer since all of his murders took place near train tracks. Authorities were able to link the crimes together to him because the victims were mostly women who were beaten to death and sexually assaulted and whose cars were consistently found abandoned in the San Antonio area.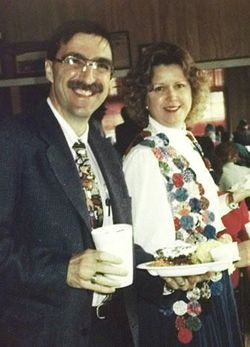 Near the beginning of Summer, on May 2nd, 1999, the bodies of Norman "Skip" Sirnic 46 and his wife Karen 47 were found with their heads crushed by a sledgehammer still lying in bed together in their Weimar Texas home. It looked like they'd been attacked while they slept, and Mrs. Sirnic was sexually assaulted post-mortem, and they were covered with blankets. They lived next to the church where Norman Sirnic was a pastor and right across the street from the railroad tracks making them a likely target. Their truck was found 3 weeks later in San Antonio like so many others. Just a month later in Houston Texas, Noemi Dominguez 26 was found murdered in her bed after being raped. When authorities found her, she had a huge hole in her head from being hit with a pickax but no weapon was found.
Her car, like all of the others, was stolen but this time Resendez drove it to Schulenberg, Texas where he killed Josephine Konvicka, 73, on June 4th, the same day he killed Noemi Dominguez and he killed both women with the same pickax. This is believed to be the first time he killed two different women on the same day in different cities. This time, rather than take the pickax with him, he left it sticking out of Josephine Konvicka's forehead and cops realized she was murdered only 3 ½ miles from the Sirnic double murders. In the back-room police found a Schulenberg newspaper discussing his crimes and a toy train which they immediately realized was a taunt from Resendiz. He tried to steal Josephine Konvicka's car but couldn't find the keys, so he was forced to continue using Noemi Dominguez's white Honda Civic. Dominguez's car was found on the 11th of June in Del Rio Texas on the international bridge.
Resendiz quickly made it to Gorham, Illinois on June 15th, 1999, where he murdered 80 yr. old George Morber and his daughter 51 yr. old Carolyn Frederick. George Morber was found tied to a chair with a phone cord and shot in the back of the head with his own shotgun and Carolyn was found raped and beaten to death by the same shotgun used to kill her father. Authorities say that once Resendiz killed Morber he helped himself to some food but then Carolyn stopped by to clean for her dad and that's when he raped her and beat her so violently the shotgun broke into two pieces. Morber's truck was stolen and found a short time later in a school parking lot 60 miles south of Gorham in Cairo, Illinois.
In mid-1999, a nationwide manhunt for Resendiz was in full swing, and on June 2nd, he was picked up near El Paso by Border Patrol trying to sneak across the border into the US. Unfortunately, the Immigration and Naturalization Service (INS) ran fingerprint and background on him but came up empty, so he was deported back to Mexico. Investigators later found that, although West University Place Police had notified INS of Resendiz in December after killing Claudia Benton, he was never entered into their fugitive database. Many people felt that this oversight was directly responsible for the deaths of Noemi Dominguez, Josephine Konvicka, George Morber Sr., and Carolyn Frederick because if he had been arrested rather than deported when they had him, he wouldn't have been free to kill again. In an effort to make up for their mistake, the federal government placed Angel Resendiz on the FBI's 10 Most Wanted list taking the place of Osama Bin Ladin with an initial reward of $50,000 that quickly escalated to $125,000 within a few days.
The FBI tried to gain the assistance of Resendiz's half-sister Manuela Karkiewicz of Albuquerque New Mexico, but she resisted at first before finally agreeing to help Texas Ranger Sergeant Drew Carter bring him in. After guaranteeing Resendiz's personal safety, and family visits, and getting him the psychological testing he needed, Manuela got him to agree to turn himself in at the US/Mexico border on the international bridge in El Paso on July 13th, 1999. Once in custody, he was charged with multiple murders across Texas, Florida, Illinois, Kentucky, and Georgia, and was the main suspect in many more that remain unsolved to this day.
The collection of fingerprints, DNA, and the jewelry and other items provided by Resendiz's common-law wife in Mexico that were identified as stolen from multiple victims all tied him to the string of murders. His defense attorneys attempted to use the insanity defense due to him believing he was some sort of avenging angel killing evildoers, but the jury saw through the sham. They took into account his multiple felony convictions and prior prison time in both the US and Mexico and in May of 2000, Angel Resendiz was convicted of capital murder and sentenced to death in the murder of Dr. Claudia Benton.
You may ask yourself why he was only tried on one murder and that's because he either received immunity for his confessions or the other jurisdictions didn't follow through with prosecution due to the expense and him already having the death penalty in Texas which amounted to guaranteed death. During his execution which was delayed by two hours while the US Supreme Court decided on his appeals, Resendiz's final words were "I want to ask if it is in your heart to forgive me," he said to the relatives of his victims who came to witness his execution. "You don't have to. I know I allowed the devil to rule my life. I just ask you to forgive me and ask the Lord to forgive me for allowing the devil to deceive me. I thank God for having patience with me. I don't deserve to cause you pain. You did not deserve this. I deserve what I am getting." With that, the drugs were pumped into his system and at 8:05 pm on June 27th, 2006 Ángel Maturino Reséndiz was pronounced dead at the Huntsville Unit in Huntsville, Texas.
Visit our store HERE for all of your favorite serial killer gear!!!

Following the link lets Buzzsprout know we sent you, gets you a $20 Amazon gift card if you sign up for a paid plan, and helps support our show:
https://www.buzzsprout.com/?referrer_id=1876119
Buy Me a Coffee
Patreon

Review us on PodChaser

Please send all correspondence to:
The American Serial Killer Guidebook or TASKG
P.O. Box 3689
Lawton, Ok. 73502

Website:
www.taskg.net