The Sick Ripper
William Devin Howell
William Devin Howell
Once a pattern in the crimes is discovered, many serial killers obtain their names from the news or law enforcement organizations. However, in the case of the Sick Ripper murders, William Devin Howell, the murderer, coined his own, albeit unoriginal, moniker. The actual story of the Sick Ripper follows William Devin Howell's "murder mobile," in which he took advantage of weak communities in order to fulfill his warped fantasies. Howell was responsible for the deaths of six women and one man in Connecticut in 2003. Howell buried the bodies of his victims behind a strip mall, adding to the shocking number of crimes linked to such places.
Howell, like many other criminals, roamed around in a menacing vehicle, a van he called the Murder-Mobile, inside which he committed all of his atrocities in a single year. He was apprehended and imprisoned for one of the murders, but he stayed in custody for a decade before investigators understood the scope of his crimes. Desperate for attention, he revealed to his cellmate that he was the Sick Ripper murderer.
The Murder Mobile
After referring to himself as a "sick ripper", William Devin Howell chose it as his own nickname. He was responsible for the murders of seven individuals. According to one inmate, Howell told him details of his murders, even describing "a monster inside him that suddenly broke out" as a motive. Howell also stated that during his conversations with his cellmate, he mentioned that if he hadn't been captured, "he was going to go cross-country and kill others."
Clearly, there was a monster, and that creature is Howell. Many serial killers attribute their crimes to something else; the BTK Killer famously stated, "I genuinely think it's a demon that's within me."
Howell buried the victims behind a strip mall in the woods, which he dubbed his "garden." All seven of his victims' corpses were found in his "garden," though it took the cops many years to uncover them all. Over the course of eight years, they discovered the bodies. In 2007, authorities discovered the bones of the first body after a hunter discovered a human skull in the woods. Police Chief James Wardwell believed the search was far from done after discovering the remains of the first three bodies in 2007. They discovered the bones of three more of Howell's victims later that year but, police returned to the site in 2015 and discovered the rest of the remains by utilizing cadaver dogs and excavating the surrounding terrain. Wardwell seemed pleased to have finally brought justice and peace to the families of the seven people who had gone missing. ", he said "They had spent years searching for their loved ones. We were relieved that we had been able to provide some closure for them. It's a pity it had to come to this."
The Location of Howell's Garden
Howell dubbed himself a "sick ripper" and called his van the "murder mobile" which is where he made his kills. Police discovered DNA matching known victims in his murder mobile, tying him to a series of killings. Even though no corpse had been found, investigators charged Howell with murder and sentenced him to 15 years after discovering a blood match to a missing woman, Nilsa Arizmendi. A hammer, the instrument he used to kill Arizmendi, was also discovered in his murder mobile, as were tapes showing him fornicating with women. Howell was eventually discovered to have sexually assaulted at least three of his victims, according to the police.
Having met before, Arizmendi and her boyfriend, Ace Sanchez, invited Howell to their hotel room where the three of them smoked crack and engaged in drug-fueled three-way sex. According to court filings, Arizmendi's boyfriend later told police that she vanished on July 25, 2003, after getting into the blue van of someone the couple knew as "Devin" in a parking lot near the Berlin Turnpike in Wethersfield to buy narcotics. Investigators were able to identify Howell as the van's owner and noticed he had the tattoo "Devin" on his bicep when they confronted him.
Nilsa Haydie Arizmendi
According to the affidavit, they made a startling finding inside. The back cushion of the van's seat was smeared with blood that "soaked through the fabric into the foam underneath," and another cushion had been removed and replaced with three sofa cushions.
From prison, Howell told author Anne K. Howard that Arizmendi had asked for a lift to Hartford, but he had instead abducted her, "raped her throughout the night and into the day," before killing her and dumping her down the hill into his "garden."
An Empty Murder Mobile
The partial remains of Diane Cusack, 53, Joyvaline Martinez, 23, and Mary Jane Menard, 40, were the victims found in 2007 by the hunter in a wooded area in New Britain, but the murders weren't linked to Howell until investigators got a tip from fellow inmate Jonathan Mills, a triple murderer who had befriended the former gardener behind bars and a second murder warrant was soon issued for Howell.
Howell's Victims
According to testimony by Mills, in a continual effort to impress his cellmate who obviously didn't want to know about his antics in the first place, Howell said that it was too chilly outside to bury his first victim's body. So, he wrapped the body in plastic and slept next to it for two weeks in his vehicle, but not before removing her fingerprints and jaw. He also revealed that he had given her the moniker "Baby" and stated that some of her was buried in Virginia rather than Connecticut, where the remainder of her remains were discovered.
Inside the Murder Mobile
Mills drew a detailed map of where the bodies were buried using information gleaned from his conversations with the killer, and in April of 2015, investigators discovered the bodies of Arizmendi, whom he was already serving time for murdering, and three other victims—Melanie Ruth Camilini, 29, Marilyn Gonzalez, 26, and Danny Lee Whistnant, 44—in the same wooded area behind the shopping mall off Hartford Road where police had found the other three bodies in 2007. Because of their savagery and violence, Howell's crimes stood apart.
According to his arrest warrant, Howell's first victim, Melanie Ruth Camilini, was raped repeatedly, strangled, and beaten in the head with a hammer until almost nothing remained. Howell claimed he cut off the tips of Camilini's fingers and removed the bottom portion of her jaw to conceal her identity before throwing the body parts in a dumpster behind The Dollar Store in Hartford and burying the rest of the body in what would become his graveyard behind the New Britain strip mall. In another case, Howell claimed to have kidnapped Gonzalez and raped her for the entire night before stopping at McDonald's to buy her a last meal—in what would become a ritual for the killer. "I'd go through the Mickey D's drive-through with a half-naked tied-up bitch in the back and tell them if they made a sound, it'd be their last," he says.
Melanie Ruth Camilini
Howell stated, "I just killed them to hide the evidence." "I knew if I raped them, they'd report me to the cops, and I'd be back in jail." As a result, I had to prevent that from happening. I didn't enjoy killing them in the least. I was thinking to myself as I strangled them, "Just hurry up and fucking die." Despite the fact that the Connecticut State Division of Criminal Justice was only able to connect Howell to the rapes of three women, he admitted to raping all of his victims except Whistnant, whom he said he rage-killed after discovering the 44-year-old was transgender and biologically male.
Danny Lee Whistnant
"How would they know I only raped three women?" "When they dug them up, the bodies were nothing but bones," he claimed. "With the exception of the faggot Danny Whistnant, I raped everyone." In his blue 1985 Ford Econoline van, investigators collected DNA from six of the seven victims. Howell said that he was raised by a "decent family in a good house," but that as an adult he was troubled with rape fantasies and resentment. After a quarrel with his girlfriend, he committed to making his fantasies a reality. "I'm not sure what it was that made me say, 'Well, tonight is the night I'm going to cross the line. It's something I'm going to do, I'm going to make my wish come true," adding that the murders were something he "decided" to do because he was "selfish."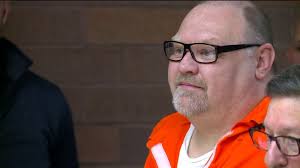 Howell in Court
To save his victims' families the misery of a trial, Howell opted to plead guilty to the six remaining killings in 2017. He tearfully detailed his crimes at an intense, emotional sentencing hearing that year. According to court records, he added, "First, I want to apologize to the victims' families." "I know everyone wants to know why I committed these crimes. I don't have an answer. I do not know myself."
Howell had hoped for the death penalty, but the state repealed capital punishment in 2012, and he was instead sentenced to 360 years in prison, according to the Division of Criminal Justice. He is currently serving out his sentence in Cheshire Correctional Institution in Connecticut.
Cheshire Correctional Institution
According to the local press, New Britain State's Attorney Brian Preleski commented at the time, "This sentence doesn't provide justice for the harm done by this defendant, but it is as close to justice as we can get." Howell still feels he isn't a monster despite claiming seven lives.
"I mean, I committed monstrous and heinous crimes, but my true character isn't a monstrous and heinous person."
When he was finally convicted, Howell became Connecticut's most prolific serial killer. Before him, Michael Ross, who murdered eight individuals in total, six of whom were in Connecticut, held the distinction of the most prolific killer in the state of Connecticut. Ross was condemned to death by lethal injection by the state in 2005. Prior to Howell becoming a suspect, authorities offered a $150,000 reward, the largest in state history, for information leading to the arrest of the killer.
All seven victims were linked by two basic factors: drugs or prostitution. Howell later said, "The victims should have known they were going to die because of the lifestyles they led."
HELP SUPPORT OUR SHOW

Visit our store HERE for all of your favorite serial killer gear!!!

Following the link lets Buzzsprout know we sent you, gets you a $20 Amazon gift card if you sign up for a paid plan, and helps support our show:
https://www.buzzsprout.com/?referrer_id=1876119
Buy Me a Coffee
Patreon

Review us on PodChaser

Please send all correspondence to:
The American Serial Killer Guidebook or TASKG
P.O. Box 3689
Lawton, Ok. 73502

Website:
www.taskg.net
#TASKG #TheAmericanSerialKillerGuidebook #WilliamDevinHowell #TheSickRipper